Cooling Tower Application
High performance polypropylene cooling tower fill.
Polypropylene is rapidly replacing the standard PVC fill in cooling towers due to its superior quality.
2H plastics is a leading supplier for cooling tower fill in PP and also in PVC. The 2H plastic PP fill is undoubtedly one of the best cooling tower fill available. The fill is made from polypropylene and can withstand much higher temperatures compared with standard PVC fill and will outlast standard PVC fill by may years.
The 2H Plastic fill is available in cross-corrugated film fill with 12mm flute, 19mm flute and 27mmflute fill. Other fill is available on request.
2H PP fill is suitable to replace all major standard and high performance PVC fill and delivers equal or better performance but will outlast the PVC fill.
The thermal performance of the 2H Plastic fill is well tested and among the best available. The fill is welded in a highly sophisticated welding machine, ensuring the accurate "honeycomb" opening at the surface of the fill blocks. In comparison, PVC fill is glued together. The PVC glue can break up over time which results in a break down of the PVC fill blocks.
The 2H Plastic fill is most suitable for counter flow and cross flow cooling towers. It is widely used successfully in many applications like power station cooling towers, process cooling towers, air conditioning cooling towers.
The Cooling tower fill is ideal for retrofitting existing cooling towers with new fill. We have sophisticated performance programs available to predict the performance of the cooling towers and can assist you with the upgrade and revamp of your existing cooling tower.
Some high quality cooling tower manufacturers like Superchill in Australia are now using the PP fill as standard fill in their cooling towers. The fill is also used in the new Superchill cooling towers for the new Lukas Heights Nuclear Research Reactor.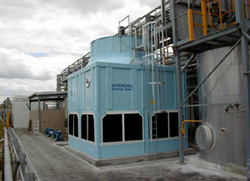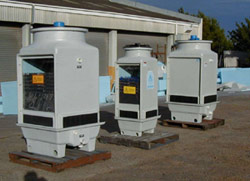 Picture of Superchill Cooling towers, (courtesy of Superchill)