Drift Eliminator (TEP)
TEP 130 polypropylene drift eliminator
Most common sizes:
2400mm long x 130mm high x 600mm wide
we can cut to any smaller size for a fee
Most common applications for this fill type:
cooling tower drift eliminator
inlet louvers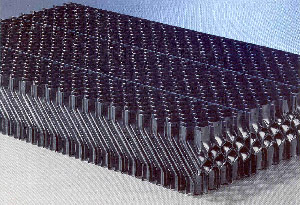 2H Drift eliminators are widely used in Cooling towers as high performance drift eliminators and droplet eliminators. The drift eliminators fully comply with all Australian standards and in particular with AS3666. The drift eliminators have been tested overseas and also in Australia according to AS4180.1. The Measured drift loss according to AS4180.1was less than 0.001%.
The TEP eliminator can also be used as Inlet louvers (for Cooling towers, evaporative coolers, chicken farms and other applications)
2H Plastics can supply louvers for cooling towers for blocking light entering the cooling tower basin, and to prevent water splashing from the basin. We can supply lovers in polypropylene or in PVC 125mm width for optimal protection or the 65mm standard width. The louvers can also be used for many other applications where air movement is required, however light or water must be contained.
Download PDF Brochure Below:

TEP 130
Download PDF Brochure Below:

TAP 160
Pricing
Volume pricing available on request
2.4m x 0.6m x 0.13m block (nominal) is $429.00 (incl. $39.00 GST)
---
2 H-TKP - media
Made from extruded polypropylene foils
For counterflow cooling tower applications
high temperature resistant
minimum pressure drop
longest serving life
superior heat exchange properties
environmental friendly
For low and highly loaded fixed bed reactors
very robust and long lasting
high cost advantage and good environment benefits compared with PVC
high nitrification rate
low energy consumption and low sludge production
high security against blockages
polypropylene (PP) with extreme chemical resistance and UV-stability
welding is completely free of solvent based adhesives
also prove useful in bio rotors